Acorn Stairlifts has earned its amazing reputation not only from its high demand, shipping our stairlifts to over 80 countries worldwide, but through its collection of awards, accreditations, and testimonials from satisfied Acorn customers. From awards earned for our high-quality stairlifts, to our quick and knowledgeable installers always ready for any stairlift repairs, to our superior customer service, Acorn has been recognised and praised for all of the unique qualities that make Acorn Stairlifts stand out from its competitors but don't just take it from us. Hear from real, satisfied Acorn customers who explain why Acorn Stairlifts is the world's number one stairlift provider.
Fast and Friendly Stairlift Elevator Customer Service
"My recent experience with the Sydney office of Acorn Stairlifts has been one of absolute satisfaction. I would particularly like to mention the sales coordinator for his consistent patience while stepping me through the process of selection suitability and purchase of our new curved stairlift. I had some out of the ordinary circumstances which complicated the process a little but his attention to detail and thorough explanations enabled a very successful outcome. Thank you also for the personal home visit to ensure a smooth liaison between states. I have worked in customer service roles most of my life and would like to congratulate Acorn Stairlifts with this well-deserved feedback. I will not hesitate to highly recommend your company anytime. Many thanks."
-Carolyn Jackson, O'Halloran Hill, Adelaide
Quick, Mess-free, Compact Stairlift Installation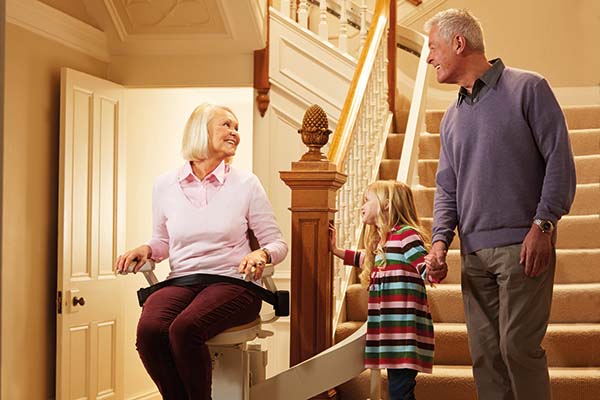 "Hello there, I wanted to write to Acorn and say how impressed I was with the service call with your technician. Firstly, he was punctual and very polite. He explained different points about the chair lift and I really appreciate how he took the time and also care to do this. He was very enthusiastic about the product and would also be great in any role as he has a great personality. Very happy. Thank you again."
-Anonymous, South Yarra, Victoria
"I wish to thank you for replacing the seat on my Chairlift recently. I think you give excellent service! I have always found your staff in the different departments to be pleasant, friendly, helpful & respectful. (Attributes which are becoming somewhat rare these days!) I would not hesitate to recommend Acorn to anyone. Good company - good product - good service. Thank you again."
-Susan Flynn - Toogoom Qld.
Life-Changing Lifts Well-worth the Money
"I bought my Acorn stair lift in July 2017 after a very hurried decision to move to a house with Stairs, I have MS and cannot safely use stairs. I contacted a number of places and then I met the team from Acorn. From the minute I made contact with them nothing was too big or too hard. They talked directly with the builder and to the landlord and made it happen. The team were amazing, nothing was too hard, they sorted everything, all within a very short timeframe. It has been nothing but fit for purpose since. From the first phone call to installation amazing service amazing products amazing implementation, outstanding customer experience. Thank you, ACORN! My advice don't procrastinate just call Acorn you will be SUPER happy"
-Tamsin Jones - Bentleigh East, Victoria
81-year-old Margaret Sergison found she could no longer tackle her staircase, often finding herself immobile. A dangerous fall down the stairs forced her eldest son, Michael, to take action.He contacted Acorn Stairlifts who installed his mother's stairlift just one week later.
"The difference is a blessing," says Mrs. Sergison."I simply can't explain how much the Acorn Stairlift has helped me. Most importantly, I can stay in the home I love, which is my life."
Get the Exceptional Stairlift Experience and Choose Acorn Stairlifts
Now that you've heard real-life examples of how Acorn Stairlifts continues to lift peoples' lives every day, you can make the life-changing decision to trust the testimonials and become one of Acorn's countless happy customers. Click here to get your free, no-obligation quote and home survey to get started on securing your dream stairlift.